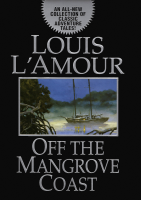 Off the Mangrove Coast
Your Price: $8.45
Half-Price Hardcover
(Usually ships within 24 hours)
About eBook Links - Apple iBook | Amazon Kindle
A BEST SELLER!
From the jungles of Borneo to the hidden canyons of the American West, from small-town fight clubs to a Parisian café at the end of World War II, here are tales of betrayal and revenge, courage and cowardice, glory and greed, as only Louis L'Amour can tell them.

Here is L'Amour at his very best. A charismatic boxer itches to fight all comers—but his only shot at the championship is in beating the man who ruined his father....

A beautiful movie star finds a dead man in her apartment and begs her ex-lover, a tough private eye, to clear her name....

A reluctant hero guides a diamond-hunting couple up a river ruled by headhunters and pirates in pursuit of a legendary stone and the mysterious warlord who guards it....

A young renegade sails the South China Sea with a trio of dangerous men in search of treasure, but when it's time to divide the prize, can he trust any of them?

Combining electrifying action scenes, vivid historical detail, and characters who seem to leap off the page, these spectacular stories honor the legend of Louis L'Amour.
Here's what the critics are saying about this exciting new
hardcover collection of short stories:
". . . Crisply written and fast-paced, these stories will have the author's fans clamoring for more, the sooner the better."
PublishersWeekly
". . .L'Amour was a man who lived life to the fullest. Fortunately for the rest of us, he remembered the details and possessed the talent to bring his experiences to life on paper.
BookList
ORDER NOW!
This collection includes:
Fighters Should Be Hungry • The Cross and the Candle • Off the Mangrove Coast • It's Your Move • The Rounds Don't Matter • The Diamond of Jeru • The Unexpected Corpse • Secret of Silver Spring • Time of Terror
About eBook Links - Apple iBook | Amazon Kindle
Historical Releases


Reviews
---