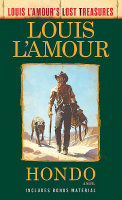 CLICK HERE
Hondo - Now including Louis L'Amour's Lost Treasures Bonus Material Postscript!
Your Price: $5.99
Paperback
(Usually ships within 24 hours)

STORY LOCATION MAP
About eBook Links - Apple iBook | Amazon Kindle
As part of the Louis L'Amour's Lost Treasures series, this edition contains exclusive bonus materials!
He was etched by the desert's howling winds, a big, broad-shouldered man who knew the ways of the Apache and the ways of staying alive. She was a woman alone raising a young son on a remote Arizona ranch. And between Hondo Lane and Angie Lowe was the warrior Vittoro, whose people were preparing to rise against the white men. Now the pioneer woman, the gunman, and the Apache warrior are caught in a drama of love, war, and honor.
About eBook Links - Apple iBook | Amazon Kindle
Historical Releases


Reviews
---