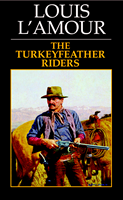 Louis L'Amour brings you the Wild West as you've never heard it before. This classic story, complete with a full cast, stirring music and authentic sound effects, sweeps listeners back to the glory days of the open frontier. Filled with cowboys and hustlers, fast guns and eager innocents, this exclusive production of The Turkeyfeather Riders brings to life the true flavor of the Old West.
Jim Sandifer had run Grey Bowen's ranch for years in the rancher's absence. When Bowen reappears with his new wife, Rose Martin, and Rose's grown son. Lee, Sandifer is happy to see his boss. But then scheming Lee Martin turns Bowen against his foreman and his neighbors. Can Jim stop the range war that's brewing without losing his job? And what are the Martins really after?
"The kind of storytelling that makes the wolves come out of the woods to listen."
-- People Magazine
Reviews
---