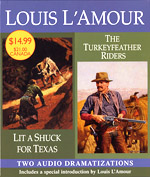 Lit a Shuck for Texas & The Turkeyfeather Riders
Your Price: $14.99
Audio Drama
(Usually ships within 24 hours)
Dramatization
Two CDs, 2 hours
This collection includes:
Lit a Shuck for Texas
Johnny Buck is a young Texas cowboy of nineteen summers, working for the Bar W. In the process of roping an old stob-horned steer, Buck is thrown from his horse--and into a hidden cleft where he encounters the mystery of a murdered man and a bag of ore that just might be gold. The taciturn owner of the Bar W discounts Buck's story of the "gold," but Buck soon finds that some of the shadier ranch hands are gunning for him. With a widow's daughter, a lost mine, and a missing prospector in the balance, Buck has no choice but to solve the mystery--or die trying.
The Turkeyfeather Riders
Jim Sandifer had run Grey Bowen's ranch for him for years in his absence. When Bowen reappears with his newly betrothed, Rose Martin, and her grown son, Lee, Sandifer is glad to see his boss. But scheming Lee Martin has turned Bowen against his foreman and his neighbors. Can Jim stop the range war that's brewing without losing his job? And what are the Martins really after?

Reviews
---