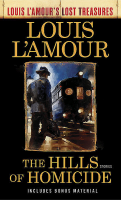 The Hills of Homicide - Now including Louis L'Amour's Lost Treasures Bonus Material Postscript!
Your Price: $5.99
Paperback
(Usually ships within 24 hours)
About eBook Links - Apple iBook | Amazon Kindle
As part of the Louis L'Amour's Lost Treasures series, this edition contains exclusive bonus materials!
Here is a collection of Louis L'Amour detective stories—vivid tales as memorable and exciting as his beloved frontier fiction. Each story is personally selected and introduced by the author.
In the dark alleys of the pulsing cities and the savage criminal wildernesses, Louis L'Amour introduces a new brand of characters: men like Kip Morgan, the ex-fighter turned detective who is tough enough to bounce a bouncer yet has more up his sleeve than sheer muscle; Joe Ragan, the dedicated career cop who fears nothing in the pursuit of justice; and women whose soft laughter covers their underlying cruelty.
These are fast-moving stories of brawls where if a man goes down and doesn't get up fast enough he's through, of flashing knives that whisper death, of guns that blaze their fatal fire through the blackest nights.
Louis L'Amour's Lost Treasures is a project created to release some of the author's more unconventional manuscripts from the family archives.
In Louis L'Amour's Lost Treasures: Volumes 1, Beau L'Amour takes the reader on a guided tour through many of the finished and unfinished short stories, novels, and treatments that his father was never able to publish during his lifetime. L'Amour's never-before-seen first novel, No Traveller Returns, faithfully completed for this program, is a voyage into danger and violence on the high seas. These exciting publications will be followed by Louis L'Amour's Lost Treasures: Volume 2.
Additionally, many beloved classics will be rereleased with an exclusive Lost Treasures postscript featuring previously unpublished material, including outlines, plot notes, and alternate drafts. These postscripts tell the story behind the stories that millions of readers have come to know and cherish.
This collection includes:
The Hills of Homicide • Unguarded Moment • Dead Man's Trail • With Death in His Corner • The Street of Lost Corpses • Stay Out of My Nightmare • Collect From a Corpse • I Hate to Tell His Widow
About eBook Links - Apple iBook | Amazon Kindle
Historical Releases


Reviews
---