The Lonely Men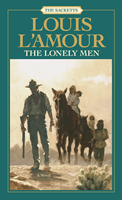 It was hot. The shallow place where I lay atop the desert ridge was like an oven, the rocks like burning coals. Out on the flat below, where the Apaches waited, the heat waves shimmered and danced. Only the far-off mountains looked cool.
Down on the flat lay my sorrel horse, who had run himself to death trying to save my hide, and him with a bullet in his belly. Squinting my eyes against the glare and the thin trickle of salty sweat in my eyes, I clutched the stock of the rifle and searched for something at which to shoot.
Down there on the trail Billy Higgins lay gut-shot and dead, killed at the last by my own bullet to save him from torture. We'd been riding east in the cool of the morning when those Apaches hit us from out of nowhere. Rightly, this wasn't even Apache country. This was Pima or Papago country, and they were Indians who were friendly to us.
Off to the northeast I could hear shooting, time to time, so some of the others must be alive. There'd been five of us, to start, and all strangers who met in Yuma. Traveling alone was mighty chancy thing in Indian country, so it was lucky that we all shaped up to go east at the same time.
Right at the moment my chances didn't look good. If they were settin' a place for me in Tucson they'd best wait, for it began to look like there'd be an empty spot at the table.
This shallow place in which I lay was scarcely three feet deep. It was maybe eight feet each way. There was mighty little growth -- just scraggly desert shrubs and prickly pear, and mighty little of that. Time inched by, with no change in the heat, no change in the sun, no change in the country around.
Right now all I wanted was a way out. . . any way out. But those Apaches had a mind to keep me there.
All of a sudden one of them came up out of the sand and started for me, but when I swung my gun, another started up. Now, even a fool boy from the hills is going to learn after a while, and so the next time one started up I didn't swing my gun and try to nail him, I just waited. Another of them started up, but I let him come until he dropped and waited for the first one. Sure enough up he bobbed and I nailed him right in the brisket. Then the others were coming and, swinging the gun, I caught another one. He hit the ground in the open and the third one dropped, not more than twenty feet from the rim of my hollow. I eased around for a shot at him. The muzzle of my rifle must have showed a mite beyond the rocks at the edge of my hole, because the third one fired, hitting the rocks and splattering me with stinging rock fragments, one of which took me right in the eye.
Then they came, the two of them. I dropped my rifle and grabbed my bowie knife. When those two `Paches jumped into the hollow with me I took a wicked swipe. Somebody screamed, and I felt a body smash against me. Upping my knee, I threw him off and fell back, just missing a slashing blow that would have taken my head off.
One had a wounded leg, one had a slash across his chest and biceps, but they were tigers, believe me. It was like being in a mess of wildcats, and for the next thirty or forty seconds I never knew which end was up, until of a sudden the fight was over and I was lying on the ground, gasping for breath.
One Apache was dead, my bowie knife still in his chest. I reached over and pulled it loose, watching the other one. He was lying on his back and he had a bullet hole in his thigh that was oozing blood and he had at least three knife cuts, one of them low down on his right side that looked mean.
Reaching over, I taken up my rifle and jacked a shell into the chamber. That `Pache just kept staring at me.
One by one I collected their rifles and emptied the shells, then threw them wide.
"You're too good a fightin' man to kill," I told him. "You're on your own."
Taking a careful look around , I went down into the shallow gully left by the run-off and started away.
Shadows were creeping out from the rocks, and of a sudden it was cool and dark.
A voice spoke out. "You want to live long in this country you better get shut of them spurs."
It was Spanish Murphy. He came up from behind some brush with Rocca and John J. Battles. Taylor was dead.
"We'd best light out," Spanish suggested, and we walked single file to where their horses were. They had two horses, so we figured to switch off and on.
By daybreak both horses were tired out and so were we., but we had sixteen miles behind us and a stage station down on the flat before us.
The station tender leaned on the bar. "Haven't seen you in years, Spanish. Figured they'd have stretched your neck before now."
"Give'em time," John J. Battles said.
Setting there in the chair, taking occasional swallows of cool water from the bucket, I began to feel myself getting back to normal. The blood of Apaches was still on my hands. There had been no water in which to wash until now.
Spanish Murphy hitched around in his chair. "Tell, we make a team, the four of us, why don't we stick together?"
"We'll need a couple horses," I said.
"You'll get'em," Case replied.
John J. Battles, a solid chunk of a man, glanced across the table at me. "Sackett... that's a familiar name."
"I'm familiar," I agreed, "once you get to know me." It wasn't in me to get him comparing notes, figuring out who I was. Once he did, he'd bring up the fight in the Mogollon country, and how Angie was murdered. It was something I was wishful of forgetting.
"I still figure," Spanish said, "that we'd make a team."
"If you want to risk hanging." John J. Battles grinned at us. "You heard what Case said."
"Me," Rocca said, "I wasn't going nowhere, anyhow."
"Later," I said, "it will have to be later. I got a trip to take."
"They looked at me, all of them. "My brother's kid. I hear tell he's been taken by the Apaches. I've got to go in the Sierra Madres after him."
Rocca was the first one to speak. "Alone? Senor, an army could not do it. That is the Apache hide-out where no white man goes."
"It's got to be done," I said.
Case, he just looked at me. "You're crazy. You're scrambled in the head."
"He's just a little boy," I said, "and he's alone down yonder. I think he will be expectin' somebody to come for him."