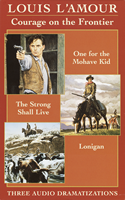 Courage on the Frontier
Your Price: $9.95
Audio Drama
(Usually ships within 24 hours)
Each of the three stories in this boxed set is an exciting dramatization of a Louis L'Amour short story featuring all the excitement of the Old West -- deadly gunslingers, dusty trails, men and woman living on the edge in a brutal landscape -- each presented with authentic sound effects, dramatic music, and a full cast.
One for the Mojave Kid
Few men were as deadly, or troublesome, with a gun as the Mohave Kid. Ab Kale, marshal of Hinkley, had warned the Kid to stay away from his town. Even as he trained his own adopted son, Riley, to handle a gun, he worried for both of them. He knew the Kid was the bloodthirsty sort who would one day force a showdown. But he couldn't know when...or prepare Riley for the test of his young life.
The Strong Shall Live
When they burned his home, he rebuilt it. When they shot at him, he shot back. But now the man they call Cavagan is in the worst bind of his life. With his hands tied and his body stiff from beatings, he has been left for dead at the bottom of a deep sand pit in the searing Santa Fe desert. Sixty miles from the nearest water. On foot, without a weapon, in one hundred and twenty degree heat. Only once thought drives him on: "I shall live! I shall live to see Sutton die."
Cavagan is one of Louis L'Amour's most remarkable heroes, a wily black Irishman honed by battle and baptized by fire. Now he's struggling for life -- and revenge -- in this brutal land.
Lonigan
In this exciting collection of short stories, Louis L'Amour, the legendary voice of the American West, celebrates the unique breed of men who worked the great cattle ranches. Men like Dan Regan, who refused to surrender when trouble came -- Con Fargo, who would fight for what was his--despite the odds -- Rowdy Horn, a small-time rancher with big-time dreams -- Tandy Thayer, too loyal to forget a friend ... Bill Carey, who might have fallen low, but not low enough to let the likes of Tabat Ryerson ride off with a woman like Jane Conway -- and in the classic title story, Danny Lonigan, a hard rider who faced a group of rustlers without fear--or mercy.
This collection includes:
One for the Mojave Kid • The Strong Shall Live • Lonigan
Reviews
---