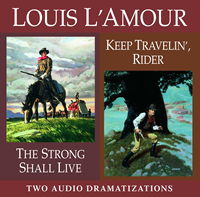 The Strong Shall Live & Keep Travelin' Rider
Your Price: $14.99
Audio Drama
(Usually ships within 24 hours)
Dramatization
Two CDs, 2 hours
This collection includes:
When they burned his home, he rebuilt it. When they shot at him, he shot back. But now the man they call Cavagan is in the worst bind of his life. With his hands tied and his body stiff from beatings, he has been left for dead at the bottom of a deep sand pit in the searing Santa Fe desert. Sixty miles from the nearest water. On foot, without a weapon, in one hundred and twenty degree heat. Only once thought drives him on: "I shall live! I shall live to see Sutton die."
Cavagan is one of Louis L'Amour's most remarkable heroes, a wily black Irishman honed by battle and baptized by fire. Now he's struggling for life -- and revenge -- in this brutal land.
After the absence of several years, Tack Gentry heads home to his Uncle John's G-Bar Ranch. But when he arrives, the entire town has changed. What's more, strangers have taken over the G-Bar. Strangers who claim that Tack's uncle died in a gunfight. But Tack knows better. He knows his uncle was a strict Quaker - a man who never even owned a gun. The new sheriff in town wants Tack to get out of town, pronto - but Gentry vows to stay put and fight for the land he believes is his.

Reviews
---