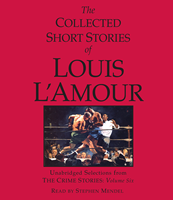 The Collected Short Stories of Louis L'Amour The Crime Stories - Volume VI

Play Excerpt
Your Price: $21.95
Unabridged Selections
(Usually ships within 24 hours)

Read by Stephen Mendel
3 Hours on 3 CDs
Traversing a vivid landscape, from sunblasted hills and canyons to the nighttime streets of America's greatest cities, some of Louis L'Amour's most compelling fiction was set in his own time. Here are tales of innocents caught in the schemes of criminals, detectives hunting down truths that hide more lies, gangsters and beauties, private investigators and cops. Here is a world populated by the kinds of people who risk their lives to right a wrong, make a buck, or save a friend. Included here is this collection are Police Band, Dead Man's Trail, The Hills of Homicide, and The Sucker Switch.

Written and performed in the crackling pulp fiction style of the 1940's and 50s these thrilling, atmospheric stories course with authenticity and bear the mark of a timeless master.
This collection includes:
Police Band • Dead man's Trail • The Hills of Homicide • The Sucker Switch
Reviews
---
---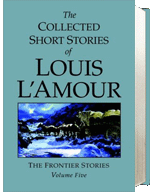 Don't Miss A
Single Volume!
CLICK HERE!
---