The Collected Short Stories of Louis L'Amour The Frontier Stories - Volume I
Your Price: $24.00
Trade Paperback LARGE PRINT
(Usually ships within 24 hours)
About eBook Links - Apple iBook | Amazon Kindle
With more than 120 titles still in print, Louis L'Amour is recognized the world over as one of the most prolific and popular American authors in history. Though he met with phenomenal success in every genre he tried, the form that put him on the map was the short story. Now this great writer--who the Wall Street Journal recently compared with Jack London and Robert Louis Stevenson--will receive his due as a great storyteller. This volume kicks off a series that will, when complete, anthologize all of L'Amour's short fiction, volume by handsome volume.
Here, in Volume One, is a treasure-trove of 35 frontier tales for his millions of fans and for those who have yet to discover L'Amour's thrilling prose--and his vital role in capturing the spirit of the Old West for generations to come.
This collection includes:
The Gift of Cochise • That Man from The Bitter Sands • Desperate Men • Dutchman's Flatt • From the Listening Hills • Trap of Gold • Riches Beyond Dream • The Lonesome Gods • The Skull and the Arrow • End of the Drive • Caprock Rancher • Dead End Drift • One Night Stand • Marshal of Canyon Gap • A Husband for Janey • Elisha Comes to Red Horse • The Courting of Griselda • Booty for a Badman • The Defense of Sentinel • The One for the Mohave Kid • A Mule for Santa Fe • War Party • Ironwood Station • Alkali Basin • Stage to Willowspring • Let the Cards Decide • Duffy's Man • The Strong Shall Live • To Make A Stand • Get Out of Town • One for the Pot • Beyond the Chaparral • Home is the Hunter • Rustler Roundup • The Moon of the Trees Broken by Snow
About eBook Links - Apple iBook | Amazon Kindle
Historical Releases


Reviews
---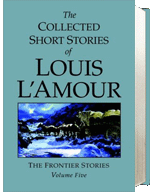 Don't Miss A Single Volume!
Click Here!