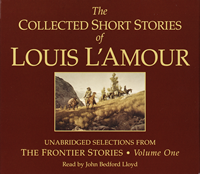 The Collected Short Stories of Louis L'Amour The Frontier Stories - Volume I

Play Excerpt
Your Price: $21.95
Unabridged Selections
(Usually ships within 24 hours)

Read by John Bedford Lloyd
3 1/2 Hours on 3 CDs
No one more vividly captures the rugged majesty and enduring spirit of the American West than Louis L'Amour. Now, collected for the very first time, here are seven unabridged frontier tales from a legendary master of the genre. Volume One celebrates this remarkable voice in American fiction with a captivating blend of some of his best-beloved work.

Listeners are brought face-to-face with heroism in a most unexpected place in The Gift of Cochise, as a single mother faces down an Apache war party. Desperate Men follows four escaped convicts running a gauntlet of double and triple crosses in a hunt for gold that will leave only one of them alive. In Skull and the Arrow, a beaten man finds the strength to confront his enemies in the discovery of a simple arrowhead. In Marshal of Canyon Gap, a new face in town means nothing but trouble to Marshal McLane--not only for Canyon Cap, but for the secret he's kept for too many years. In The Defense of Sentinel, a whiskey-soaked drunk wakes to find that he's only hope for a town surrounded by marauders. Let the Cards Decide is the story of a woman whose future hangs on the outcome of a card game, and the adventures continue with Home is the Hunter, the tale of a hardened gunfighter and the little girl who changes his rough way of life.

Brimming with history, unforgettable characters, and the pride of place that his listeners have come to expect, this first volume of The Collected Short Stories of Louis L'Amour is a lasting tribute to one of the greatest short-story writers of all time.
This collection includes:
The Gift of Cochise • Desperate Men • Skull and the Arrow • Marshal of Canyon Gap • The Defense of Sentinel • Let the Cards Decide • Home is the Hunter
Reviews
---
---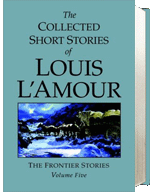 Don't Miss A
Single Volume!
CLICK HERE!
---