The Collected Short Stories of Louis L'Amour The Frontier Stories - Volume V
Your Price: $24.00
Trade Paperback LARGE PRINT
(Usually ships within 24 hours)
About eBook Links - Apple iBook | Amazon Kindle
Louis L'Amour's world is built on those dramatic moments when men and women cast their fears, doubts, and pasts behind them and plunge into the unknown–into split-second decisions with life-and-death consequences. Nowhere is that more evident than in this latest collection of stories set on the American frontier. Here L'Amour takes us across a bold, beautifully rendered landscape where strangers may come to trust–or kill–one another; where old scores haunt new lives and the wrong choice leaves unwitting victims. Even at the best of times, this is a world in which every man and woman must be responsible for their own survival.

This keepsake volume features unforgettable moments and timeless characters. From fugitives to visionaries, from fortune seekers and drifters seeking a new life to young women trying to build homes in an all too often lawless world, the characters in these pulse-pounding stories are vintage L'Amour. Together in this vivid, rollicking collection of stories, they bring to life the American spirit and confirm Louis L'Amour's place at the very top of the pantheon of American writers.
This collection includes:
No Man's Man • The Nester and the Piute • Desert Death Song • Heritage of Hate • Hattan's Castle • Big Man • Showdown on the Tumbling T • Waltz Him Around Again, Shadow • Rowdy Rides to Glory • The Ghost Maker • Down the Pogonip Trail • The Romance of Piute Bill • That Triggernometry Tenderfoot • The Sixth Shotgun • Barney Takes a Hand • Rain on the Halfmoon • When a Texan Takes Over • Big Medicine • Gila Crossing • The Marshal of Painted Rock • Ride, You Tonto Raiders • No Trouble for the Cactus Kid • Medicine Ground • Love and the Cactus Kid • The Cactus Kid Pays a Debt • Battle at Burnt Camp • The Cactus Kid
About eBook Links - Apple iBook | Amazon Kindle
Historical Releases


Reviews
---
---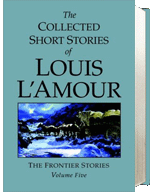 Don't Miss A Single Volume!
Click Here!
---