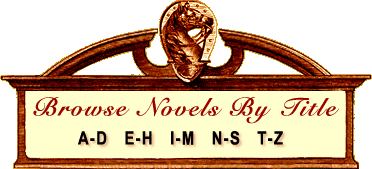 Click A-D above to begin browsing novels by title.
THE HOPALONG CASSIDY NOVELS
Click HERE for a special deal!
About the Hopalong Cassidy Novels by Louis L'Amour
When Clarence E. Mulfold -- the original Hopalong Cassidy --retired, he chose the young Louis L'Amour to carry on the Hopalong tradition. Long out of print and now published under the author's own name, these novels are vividly authentic tales of the Old West that bear the unmistakable Louis L'Amour brand of swift, sure action, hard-fought justice, and frontier courage.
The Riders of High Rock
Jack Bolt, a savage, ruthless killer, has brought in a tough band of hard-cases to run his operation. And now he's sent them out to take care of the one man who stands in his way: Hopalong Cassidy. But Bolt's about to learn the hard way that if you shoot down a man like Cassidy, you better make sure he never gets up again.
The Rustlers of West Fork
Even if Hopalong can free Jordan and Pam, he will have to lead them across rough and untamed Apache country, stalked by the outlaws who have vowed to gun him down. But Hopalong is no stranger to trouble, and before his guns or his temper cool, he's determined to round up Sparr and his gang and bring them to justice ... dead or alive!
The Trail to Seven Pines
Hopalong rides into a firestorm of violence and betrayal. On the rain-drenched trail, he discovers two men -- one dead, the other badly wounded. Returning with medical help, Hopalong finds the wounded man has been shot through the temple. Who would commit such a murder? Hopalong is determined to find those responsible. But even the best gunfighter needs men he can trust to watch his back.
Trouble Shooter
In search of Pete's killers and Cindy's ranch, Hopalong signs on at the Box T. But in the land of mesquite and black chaparral, Cassidy confronts a mystery as hellish as it is haunting -- a bloody trail that leads to the strange and forbidding Babylon plateau, to $60,000 in stolen gold, and to a showdown with an outlaw who has already cheated death once... and is determined to do it again.

---
Check out these other great values and gift sets!
---
Buy the set and SAVE OVER 20%!!
SPECIAL LIMITED TIME OFFER
Purchase all 4 Hopalong Cassidy novels
by Louis L'Amour and save over 20%!
Order by clicking above!
---