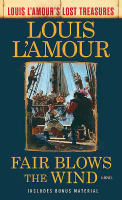 CLICK HERE
Fair Blows the Wind - Now including Louis L'Amour's Lost Treasures Bonus Material Postscript!
Your Price: $7.99
Paperback
(Usually ships within 24 hours)

STORY LOCATION MAP
About eBook Links - Apple iBook | Amazon Kindle
As part of the Louis L'Amour's Lost Treasures series, this edition contains exclusive bonus materials!
His father killed by the British and his home burned, young Tatton Chantry left Ireland to make his fortune and regain the land that was rightfully his. Schooled along the way in the use of arms, Chantry arrives in London a wiser and far more dangerous man. He invests in trading ventures, but on a voyage to the New World his party is attacked by Indians and he is marooned in the untamed wilderness of the Carolina coast. It is in this darkest time, when everything seems lost, that Chantry encounters a remarkable opportunity. . . . Suddenly all his dreams are within reach: extraordinary wealth, his family land, and the heart of a Peruvian beauty. But first he must survive Indians, pirates, and a rogue swordsman who has vowed to see him dead.
Louis L'Amour's Lost Treasures is a project created to release some of the author's more unconventional manuscripts from the family archives.
In Louis L'Amour's Lost Treasures: Volumes 1, Beau L'Amour takes the reader on a guided tour through many of the finished and unfinished short stories, novels, and treatments that his father was never able to publish during his lifetime. L'Amour's never-before-seen first novel, No Traveller Returns, will also be released as a Lost Treasures publication, followed by Louis L'Amour's Lost Treasures: Volume 2.
Additionally, many beloved classics will be rereleased with an exclusive Lost Treasures postscript featuring previously unpublished material, including outlines, plot notes, and alternate drafts. These postscripts tell the story behind the stories that millions of readers have come to know and cherish.
About eBook Links - Apple iBook | Amazon Kindle
Historical Releases


Reviews
---