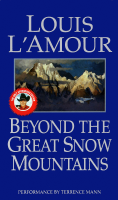 Beyond the Great Snow Mountains
Your Price: $4.99
Unabridged Selections
(Usually ships within 24 hours)
Read by Terrence Mann
6 Hours on 4 Cassettes
This exclusive audio production brings together for the first time ever eight magnificent stories long unavailable anywhere else - a collection that is sure to surprise and delight both old fans and new!
From the wide-open range of the American West to the frozen seas of the Siberian coast, from the deceptive glitter of Hollywood to the bloodstained canvas of the boxing ring, these are stories of war, mystery, romance, crime, and punishment as only Louis L'Amour can tell them.
Here are vintage L'Amour stories of men and women pitted against impossible odds, yet struggling to do what's right: a hard-bitten cattle driver must deal with a man trying to steal his woman, the disappearance of a thousand head of cattle, and a plot to frame him for murder. A private eye visits a remote mining town on a case involving a sexy widow, an uneasy lawman, and a fortune in gold buried in an abandoned mine shaft. A young country boy with a good right hand must fight not only his vicious opponent in the ring but the ruthless gangsters who'll do anything for profit--even commit cold-blooded murder. A young woman stranded with her sick father in an isolated harbor run by a sadistic fortune hunter must call upon all her resources to survive in a brutal battle wits.
Filled with L'Amour's trademark blend of action, imagination, historical detail, and fascinating characters, these stories are a welcome addition to the L'Amour legend, revealing the impressive visionary breadth and genius of one of the world's most extraordinary writers.
Reviews
---