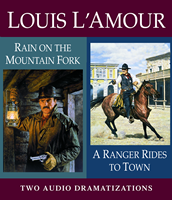 Rain on the Mountain Fork & A Ranger Rides to Town
Your Price: $14.99
Audio Drama
(Usually ships within 24 hours)
Audio Dramatization
Two CDs, 2 hours
This collection includes:

Rain on a Mountain Fork
Lawman, manhunter, peacemaker–it takes a hard breed of man to survive as a Texas Ranger, but Chick Bowdrie stands head and shoulders above the rest. The rough trails are his home. He's dried by the desert sun and wind, scarred and toughened by uncounted gun battles, and when you look into his black eyes it's like looking down the barrels of two .44s. He rides in the name of justice, but he lives by his own law. And if you're thinking about walking on the wrong side of Bowdrie's Law, you'd better start running. Fast.



A Ranger Rides to Town
Texas Ranger Chick Bowdrie is a good man to have on your side and a bad man to have on your trail. When an anonymous note alerts him to an impending bank robbery, he rides into a blazing gun battle. Minutes later, one robber lies wounded, and two others lie dead in the street. Inside the bank, two more are found dead, including the banker–but not by Bowdrie's hand. It looks like there was a fifth man involved, who committed cold-blooded murder, then arranged for the Texas Ranger to dispense with the rest of his gang. But the cunning outlaw's quick getaway won't get him far enough–not with Chick Bowdrie breathing down his neck.

Reviews
---