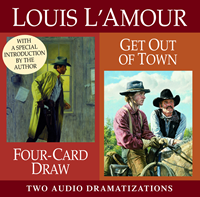 Four-Card Draw & Get out of Town
Your Price: $14.99
Audio Drama
(Usually ships within 24 hours)
Dramatization
Two CDs, 2 hours
This collection includes:
Four-Card Draw
Allen Ring won the Red Rock Ranch in a poker game. But a man was shot in the back there a couple of years back. The murder is still unsolved, but someone seems convinced that Allen Ring has the missing answer. Ross Bilton was one of the men who found the body, and now he's the town marshall. Ring finds himself in the middle of a mysterious conflict—and maybe headed for a showdown with the marshall.
Get Out of Town
Ever since his father died, fourteen-year-old Tom Fairchild has helped his mother keep the ranch going. Soon it would be time to gather the cattle to market, and Tom was sent to ride into town to hire a hand. When he chose a stranger named Riley, the townspeople, the former hands, and the local law didn't approve. Worse yet, the sheriff said Riley was a former convict. But Tom didn't care. It was the first real decision Tom ever made on his own. Now he must face a threat closer to home, a danger he never expected. Tom Fairchild isn't about to back down—but he's in more trouble than he can handle by himself.

Reviews
---