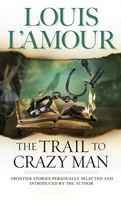 The Trail to Crazy Man
Your Price: $5.99
Paperback
(Usually ships within 24 hours)
About eBook Links - Apple iBook | Amazon Kindle
"Almost forty years ago, when my fiction was being published exclusively in 'pulp' western magazines, I wrote several novel-length stories, which my editors called 'magazine novels'. In creating them, I became so involved with my characters that their lives were still as much a part of me as I was of them long after the issues in which they appeared became collector's items. Pleased as I was about how I brought the characters and their adventures to life in the pages of the magazines, I still wanted the reader to know more about my people and why they did what they did. So, over the years, I revised and expanded these magazine works into fuller-length novels that I published in paperback under other titles.
"These particular early magazine versions of my books have long been a source of great speculation and curiosity among many of my readers, so much so of late, that I'm now pleased to collect three of them into book form for the first time.
"I hope you enjoy them."
Louis
This collection includes:
The Trail to Crazy Man • Riders of the Dawn • Showdown on the Hogback
About eBook Links - Apple iBook | Amazon Kindle
Historical Releases


Reviews
---