The Collected Short Stories of Louis L'Amour The Frontier Stories - Volume III
Your Price: $25.00
Trade Paperback LARGE PRINT
(Usually ships within 24 hours)
About eBook Links - Apple iBook | Amazon Kindle
This third volume of Louis L'Amour's collected stories gathers twenty-eight tales of the American West in a keepsake edition sure to delight fans old and new. This collection is a thrilling tribute to the unique spirit of our frontier heritage and proves again the enduring popularity of America's favorite storyteller.
The essence of Louis L'Amour's timeless appeal can be found in these unforgettable short stories. Filled with men and women who embody the values we cherish most, L'Amour's frontier tales satisfy our longing for the inspiration provided by those who struggle against the odds with justice, honor, and courage.
Open this volume anywhere and you'll discover classic stories you'll never forget: like that of the man who finds a gruesome mystery at the site where a friend's ranch has vanished into thin air, or the one about the soft-spoken young suitor accused of cowardice who proves his courage when the guns are against him…without firing a shot. You'll read stories of ordinary people faced with extraordinary circumstances, from the drifter who poses as a murdered man to solve a mystery to the grizzled recluse who protects a runaway from a brutal "guardian" with the law on his side.
Whether following the exploits of a couple taking refuge in a cabin with a group of outlaws who don't intend to let them see sunrise or a man on horseback battling sleeplessness, Indians, and a cold-blooded killer in a life-and-death race through a harsh wilderness, these gripping tales all have one thing in common: you won't be able to put them down until the last page.
For lovers of great storytelling everywhere, this exciting collection features the unforgettable characters, heart-stopping drama, and careful attention to historical detail that have entertained readers for decades and earned Louis L'Amour a permanent place among our finest American writers.
This collection includes:
Riding for the Brand • Four-card Draw • One Last Gun Notch • Shandy Takes the Hook • A Night at Wagon Camp • Six-gun Stampede • Valley of the Sun • Fork Your Own Broncs • Pardner from the Rio • The Guns Talk Loud • Squatters on the Lonetree • That Slash Seven Kid • Home in the Valley • Red Butte Showdown • Jackson of Horntown • Ride or Start Shootin' • Regan of the Slash B • Lonigan • Lit a Shuck for Texas • West of Dry Creek • There's Always a Trail • We Shaped the Land with Our Guns • To Hang Me High • West of Dodge • Monument Rock • A Gun for Kilkenny • In Victorio's Country • That Packsaddle Affair
About eBook Links - Apple iBook | Amazon Kindle
Historical Releases


Reviews
---
---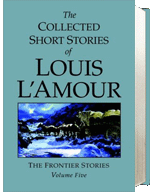 Don't Miss A Single Volume!
Click Here!
---