The Collected Short Stories of Louis L'Amour The Frontier Stories - Volume II
Your Price: $25.00
Trade Paperback LARGE PRINT
(Usually ships within 24 hours)
About eBook Links - Apple iBook | Amazon Kindle
With more than 120 titles still in print, Louis L'Amour is recognized the world over as one of the most prolific and popular American authors in history. Though he met with phenomenal success in every genre he tried, the form that put him on the map was the short story. Now this great writer--who the Wall Street Journal recently compared with Jack London and Robert Louis Stevenson--will receive his due as a great storyteller. This volume kicks off a series that will, when complete, anthologize all of L'Amour's short fiction, volume by handsome volume. Here, in Volume TWO, is a treasure-trove of 29 frontier tales for his millions of fans and for those who have yet to discover L'Amour's thrilling prose--and his vital role in capturing the spirit of the Old West for generations to come.
This collection includes:
Law of the desert born • The town no guns could tame • Man riding West • What gold does to a man • Horse heaven • The ghosts of Buckskin Run • McNelly knows a ranger • A job for a ranger • Bowdrie rides a coyote trail • A trail to the West • The outlaws of Poplar Creek • Bowdrie follows a cold trail • More brains than bullets • The road to Casa Piedras • Bowdrie passes through • Where buzzards fly • South of Deadwood • Too tough to brand • Case closed- no prisoners • The killer from the Pecos • A ranger rides to town • Rain on the Mountain Fork • Down Sonora way • Stranger pursuit • Strawhouse trail • Keep travelin', Rider • No Man's Mesa • The passing of Rope Nose Trail to Pie Town • The drift
About eBook Links - Apple iBook | Amazon Kindle
Historical Releases


Reviews
---
---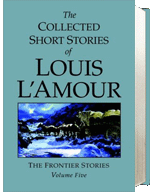 Don't Miss A Single Volume!
Click Here!
---