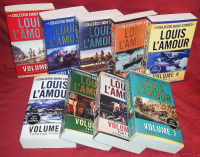 The Collected Short Stories of Louis L'Amour - 9 volume paperback set
Your Price: $49.95
Paperback
(Usually ships within 24 hours)
The Collected Short Stories of Louis L'Amour
in a 9 volume paperback set!
With more than 120 titles still in print, Louis L'Amour is recognized the world over as one of the most prolific and popular American authors in history. Though he met with phenomenal success in every genre he tried, the form that put him on the map was the short story. Now this great writer--who the Wall Street Journal recently compared with Jack London and Robert Louis Stevenson--will receive his due as a great storyteller. These volumes comprise a series that anthologizes ALL of Louis L'Amour's short fiction, in nine paperback volumes.
Reviews
---