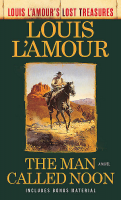 CLICK HERE
The Man Called Noon - Now including Louis L'Amour's Lost Treasures Bonus Material Postscript!
Your Price: $5.99
Paperback
(Usually ships within 24 hours)

STORY LOCATION MAP
About eBook Links - Apple iBook | Amazon Kindle
As part of the Louis L'Amour's Lost Treasures series, this edition contains exclusive bonus materials!
In one swift moment, a fall wiped away his memory. All he knew for certain was that someone wanted him dead—and that he had better learn why. But everywhere he turned there seemed to be more questions—or people too willing to hide the truth behind a smoke screen of lies. He had only the name he had been told was his own, his mysterious skill with a gun, and a link to a half million dollars' worth of buried gold as evidence of his past life. Was the treasure his? Was he a thief? A killer? He didn't have the answers, but he needed them soon. Because what he still didn't know about himself, others did—and if he didn't unlock the secret of his past, he wasn't going to have much of a future.
This beloved classic has been updated with an exclusive Lost Treasures postscript featuring previously unpublished material, including outlines, plot notes, and alternate drafts. In all the Louis L'Amour's Lost Treasures books, these postscripts tell the story behind the stories that millions of readers have come to know and cherish.
About eBook Links - Apple iBook | Amazon Kindle
Historical Releases


Reviews
---