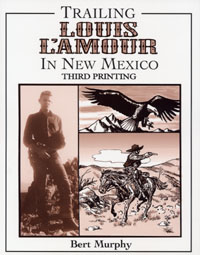 Trailing Louis L'Amour in New Mexico (By Bert Murphy)
Your Price: $22.00
Oversized Paperback
(Usually ships within 24 hours)
When Louis L'Amour wrote about a cave near a trail . . it was there. Here are the comprehensive books which help you find those caves and tell you about the land, the people and the trails which Louis L'Amour brought so vividly to life.
Prepare for an adventure like no other! Head down "Killoe's Cattle Trail 1850" and over "Conagher's Stage Line 1870," through "Flint's Malpais 1883" and on "Shalako's Warpath." With chapter titles like these you know you are in for the experience of a lifetime. Join author Bert Murphy as he expertly guides you through the roughest territory ever to challenge the American frontiersman. Loaded with detailed geological survey maps, photographs and directions, you can not only relive the experience through Bert's eyes, you can pull on your boots, strap on a pack, and follow the trails yourself!
Step back in time and visit the lonesome places portrayed in Louis L'Amour's novels from Arizona and New Mexico.
Bert Murphy has lived or worked in most western states and several foreign countries. Soldier, petrolium engineer, pilot, jungle and guerilla operations expert, recipient of numerous federal, state and foreign decorations, and frequent contributor to the Discussion Forum here at louislamour.com, Bert really has been there, done that and in these books, he shares the pictures, maps and insight he gained from the experience.
Historical Releases



Reviews
---