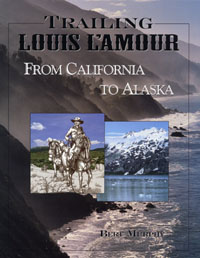 Trailing Louis L'Amour From California to Alaska (By Bert Murphy)
Your Price: $23.00
Oversized Paperback
(Usually ships within 24 hours)
When Louis L'Amour wrote about a cave near a trail . . it was there. Here are the comprehensive books which help you find those caves and tell you about the land, the people and the trails which Louis L'Amour brought so vividly to life.
With chapter titles like: "Where are the Lonseome Gods 1835 - 1864," "A Long Trail To Sitka 1817 - 1867," "Callaghen Of The Wild Geese 1867," and "Sackett Makes A Mojoave Crossing 1878" author Bert Murphy takes you by the hand and guides you safely through the roughest country, across both time and space to the world as described by Louis L'Amour. Filled with detailed maps and directions, laced with autobiographical annecdotes, personal experiences and historical facts, Bert Murphy weaves a compelling picture of the time and place in which Louis' characters lived and died. Then he brings you back to the present with photographs and geological survey maps detailing the trails and travels of Louis L'Amours most beloved characters.
Step back in time and visit the lonesome places portrayed in Louis L'Amour's novels from California to Alaska.
Bert Murphy has lived or worked in most western states and several foreign countries. Soldier, petrolium engineer, pilot, jungle and guerilla operations expert, recipient of numerous federal, state and foreign decorations, and frequent contributor to the Discussion Forum here at louislamour.com, Bert really has been there, done that and in these books, he shares the pictures, maps and insight he gained from the experience.
Reviews
---