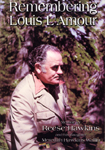 Remembering Louis L'Amour (By Reese Hawkins)
Your Price: $16.95
Trade Paperback
(Usually ships within 24 hours)
Reese Hawkins was a close friend of Louis L'Amour. Now Hawkins shares this friendship with L'Amour's Legion of fans.
In this facinating exploration of the every day happenings in Louis' life you will sit with Reese in L'Amour's study where characters were born and stories came to life.
Travel with Louis and Reese to Colorado, Carolina, North Dakota and Tennessee. Visit actual sites used in L'Amour's frontier stories.
Join them and listen to the discussion of the writing process and how his stories took shape. Learn about L'Amour's lifelong quest for knowledge and his philosophy of life.
Reviews
---