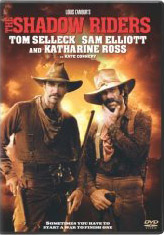 The Shadow Riders
Your Price: $14.99
Movie
(Usually ships within 24 hours)
STARRING: Sam Elliott, Tom Selleck, and Jeff Osterhage
DIRECTED BY: Andrew V. McLaglen
The Shadow Riders is all-time best-selling western writer, Louis L'Amour's adventurous story of handsome heroes, renegades, scoundrels and a hellion in petticoats. It's 1865, the close of the Civil War; two brothers, a Yankee, Mac Traven (Tom Selleck), and a Rebel, Dal (Sam Elliott), return home to Texas to discover that their sisters and Dal's spirited sweetheart Kate (Katherine Ross), have been kidnapped by marauding Rebel guerrillas who refuse to accept the defeat of the Confederacy.
Mac and Dal break their notorious uncle, Black Jack (Academy Award Winner Ben Johnson) out of jail, to help them rescue the women before they're sold as slaves to a Mexican brothel. It's classic ol' time western action from the director of "Shennandoah," "The Way West," "Chisum," and "Bandolero."
Cast:
Tom Selleck
....
Mac Traven
Sam Elliott
....
Dal Traven
Ben Johnson
....
Uncle "Black Jack" Traven
Geoffrey Lewis
....
Major Cooper Ashbury
Jeff Osterhage
....
Jesse Traven
Gene Evans
....
Holiday Hammond
Katharine Ross
....
Kate Connery
R.G. Armstrong
....
Sheriff Miles Gillette
Ben Fuhrman
....
Devol
Marshall R. Teague
....
Lieutenant Butler
Robert B. Craig
....
Laird
Jane Greer
....
Ma Traven
Harry Carey Jr.
....
Pa Traven
Dominique Dunne
....
Sissy
Natalie May
....
Heather
Note: Angelique L'Amour is one of the captive women!
Approxomate Running Time:
1 hour 36 minutes
Color 1982
Reviews
---