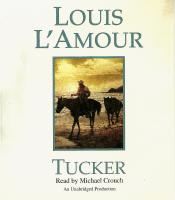 CLICK HERE
Tucker
Your Price: $30.00
Unabridged Reading
(Usually ships within 24 hours)

STORY LOCATION MAP
About eBook Links - Apple iBook | B&N Nook | Amazon Kindle
Read by Craig Klein
6 Hours on 5 CDs
"If a man won't fight for what is rightly his, then he ain't much account." With this challenge from his dying father, young Shell Tucker rode out after three men who had stolen the twenty thousand dollars his father was carrying. Two of the men he hunted, Doc Sites and Kid Reese, were his friends. Dreaming of adventure, Tucker had wanted to join their gang. But now, with his father gone and the people back home desperately in need of the proceeds from the cattle drive, Shell was determined to uphold his father's reputation and recover their money. He knew the odds were against him. Finding his friends would be difficult. Getting the money back would be nearly impossible.
They Turned A Boy Into A Manhunter...
Once, impressed by their tales of gunplay and thievery, young Shell Tucker had been eager to call them his friends. Then he saw the men in Bob Heseltine's gang from the other side, when they robbed his father of twenty thousand in hard-earned money. By the time Shell buried his pa, he knew what he had to do. Going after the gold, he rode to Colorado and a town called Los Angeles, California. But it wasn't until the outlaws shot him down and left him to die that Shell Tucker got mad enough to want to live--and wreak a kind of vengeance they'd never seen before.
About eBook Links - Apple iBook | B&N Nook | Amazon Kindle
Historical Releases



Reviews
---