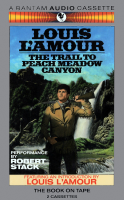 The Trail to Peach Meadow Canyon
Your Price: $1.99
Unabridged Reading
(Usually ships within 24 hours)
Read by Robert Stack

Louis L'Amour brings you the west as you've never heard it before. Listen as he takes you back to the glory days of the frontier in the unabridged performance of a novella from the collection Rider of the Ruby Hills. With a special dramatic reading by Robert Stack, this adaptation brings listeners L'Amour at his storytelling best!
Young Mike Bastian was raised to be an outlaw. Now it is time for him to take over a crooked empire from his adoptive father, Ben Curry. But Bastian isn't sure he wants to be a cow rustler - especially after he meets the enchanting Drusilla Ragan. Can he defy Curry's legacy of crime? Bastian finds out the surest test of a man is whether he can walk alone.
Robert Stack is perhaps best known for his Emmy Award- winning role as Eliot Ness in The Untouchables. More recently, he has hosted the television series Unsolved Mysteries. Stack's film credits include Airplane, Fighter Squadron, and Uncommon Valor.
Reviews
---