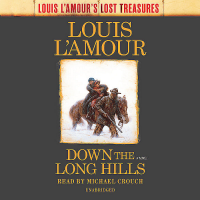 CLICK HERE
Down the Long Hills - Now including Louis L'Amour's Lost Treasures Bonus Material Postscript!
Your Price: $30.00
Unabridged Reading
(Usually ships within 24 hours)

STORY LOCATION MAP
About eBook Links - Apple iBook | B&N Nook | Amazon Kindle
As part of the Louis L'Amour's Lost Treasures series, this edition contains exclusive bonus materials! These postscripts tell the story behind the stories that millions of readers have come to know and cherish.
Everyone was dead. Indian raiders massacred the entire wagon train. Only seven-year-old Hardy Collins and three-year-old Betty Sue Powell, managed to survive. With a knife, a faithful stallion, and the survival lessons his father taught him, Hardy must face the challenges of the open prairie as they head west in search of help. Using ingenuity and common sense, Hardy builds shelters, forages for food, and learns to care for Betty Sue. But their journey through this hostile wilderness is being tracked by even more hostile men. And, as he struggles to keep them alive, Hardy realizes that their survival may depend on his ability to go far beyond what his father had been able to teach him.
About eBook Links - Apple iBook | B&N Nook | Amazon Kindle

Historical Releases



Reviews
---