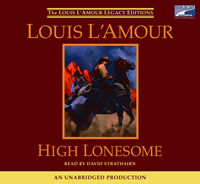 CLICK HERE
High Lonesome - Legacy Edition
Your Price: $21.00
Unabridged Reading
(Usually ships within 24 hours)

STORY LOCATION MAP

Read by David Strathairn
3 1/2 Hours on 3 CDs
In one of his most riveting novels of adventure, America's favorite storyteller follows the treacherous trail of an outlaw determined to make his big strike and then disappear into a new life. But can a wrong turn be made right–and can the heart of a hardened man still be moved by a second chance at happiness? Here's a hard-hitting, uniquely American tale of raw courage, haunting regret, and hope against all odds as only Louis L'Amour can tell it.
HIGH LONESOME
Considine bristled at the word "thief," but that's what he was. He'd been out of money, and one mistake had just led to another. Now he had four years of crime behind him and little to show for it–except the dubious honor of being a hunted man all over the country. But just south of the border there was one last chance it could all pay off. Obaro was a tough town full of tough men–boasting a bank no one had ever tapped. But it wasn't just the bank that rankled Considine, it was the man who ran Obaro. Sheriff Pete Runyon was a friend turned rival who'd married the girl Considine once loved. He was also the only man to beat Considine in a knock-down fight. Outwitting Runyon now would be sweet revenge on many levels. Then Considine could just take the money and run–literally–to the border, buy a small ranch, and start anew.
Considine didn't count on meeting Lennie, a beautiful young woman, and her trail-savvy but reckless father, a former outlaw trying to get far enough away from his past to give his daughter a future. The two were headed straight for Apache country and certain death. Now Considine and his gang can either ride like hell for the border just ahead of an angry posse–or join the old man and the girl in a desperate last stand atop High Lonesome against blood-hungry warriors. The choice is simple: risk the hangman's noose or an Apache bullet.
Reviews
---