Louis L'Amour Downloadable Audio
Thank you for choosing LouisLAmour.com as your source for downloadable audio by Louis L'Amour.

A "Downloadable Audio" is an audiobook that is downloaded and stored on your computer as a file or files. Downloadable Audio and packaged audiobooks, such as CDs, contain exactly the same content. The only difference is how you receive the material.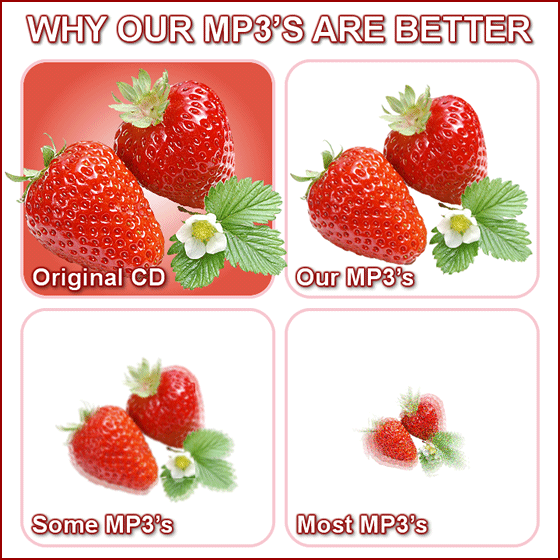 To make sound files smaller, MP3 uses "lossy" compression to throw away some of the less important parts of the signal. How much gets thrown away determines the size and quality of the sound file. At LouisLAmour.com, we KEEP more sound so you get a higher quality listening experience!
All of our Downloadable Audio files are custom created for LouisLAmour.com and meet the highest quality standards for digitized audiobooks. Each CD title was carefully loaded using technology which eliminates error and jitter from the CD Drive. With the highest quality MP3 conversion software available, we encode the data using variable bit rate compression which allows us to provide you with the highest quality MP3, based on each title's individual "sound signature." Because each track is analized and created individually, you are guaranteed the highest quality audio packed into every file!
An 'MP3 Digital Audiobook' is compatible with many different portable devices including most cell phones, PDAs, and MP3 players and can be played on your computer as well.
When you choose to purchase Downloadable Audio from LouisLAmour.com, you do so by selecting the BUYME MP3! link for the desired title. After checkout, you will be directed to a download page where you can click on the 'Download' link or links to download your purchased item to your computer.
Your download links page will remain active and available to you for a period of time to ensure ample time for you to successfully complete the necessary downloads for each title. NOTE: These are very large files (between 100 and 150 Megabytes each) and depending on the title you may need to download between 1 and 10 separate files for each title.
We have packaged each title into compressed files which will make it easier to ensure successful downloading. You must have a highspeed Internet connection to recieve these files. In addition we use a standard compression program which allows you to set the destination of the files to anywhere on your computer you wish. When you click the download link, you will be asked where on your computer you would like to save the file. If you have previously selected a default location for all downloaded files, your computer may skip this step.
Once the files are downloaded you will need to uncompress them to play the MP3 files. Simply Double Click the file you downloaded and expand the MP3 files to the location of your choice on your computer hard drive.
You can play your MP3 files on your computer or copy them to your iPod or other MP3 player using the software provided with your MP3 device.