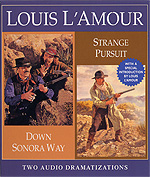 Down Sonora Way & Strange Pursuit
Your Price: $14.99
Audio Drama
(Usually ships within 24 hours)
Dramatization
Two CDs, 2 hours
This collection includes:

Down Sonora Way
Chick Bowdrie and Tensleep Mooney, a tough, wily, Wyoming cowhand, are locked in a stalemate with nothing between them but sixty yards and a Winchester.
Then a wounded man, a woman, and two bedraggled kids appeared in the distance, and just behind, the large dust cloud that meant Apaches. Bowdrie and Mooney could have played it safe, stayed hidden and let it happen. But suddenly the outlaw and the lawman became a crack team against a cruel enemy stalking helpless victims–two men for whom justice had taken a crazy turn.

Strange Pursuit
Bowdrie wants Charlie Venk Big, handsome, Venk is best known for rustling cattle, robbing banks and shooting men out of their saddles. Shrewd and intelligent, Venk is riding hard on the sorrel he's stolen right from under another man. His good looks, fast gun and reckless wit have already made him a legend. So Bowdrie has to be smarter, faster and more relentless in tracking his prey across dusty cowtowns, barren desert landscapes and through the canyons and pine forests of northern Arizona into deadly Apache territory. But he never dreamed he'd be called upon to snatch Venk from the jaws of a horrible death to prove to the wild young killer that he's finally met his match!

Reviews
---